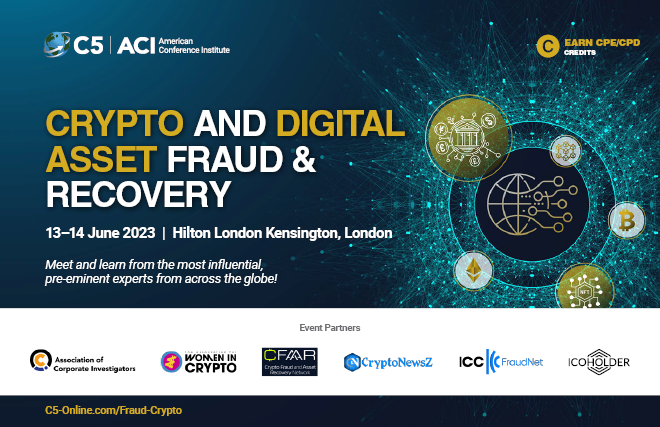 Download 2023 Brochure
Flip through our 2023 conference brochure and discover what's new this year.
VIEW FULL PROGRAM
Day 1 - Tuesday, June 13, 2023
| | |
| --- | --- |
| 8:30 | Registration and Networking |
| 9:00 | |
| 9:15 | CRYPTO AND DIGITAL ASSET PRIMER |
| 10:30 | |
| 11:30 | Networking Break |
| 12:00 | |
| 1:00 | Networking Lunch |
| 2:15 | |
| 3:15 | Networking Break |
| 3:45 | |
| 4:45 | |
| 5:30 | Networking Drinks Reception |
Day 2 - Wednesday, June 14, 2023
| | |
| --- | --- |
| 8:15 | Networking Breakfast |
| 8:55 | |
| 9:00 | |
| 10:00 | |
| 11:00 | Extended Networking Break |
| 11:30 | The Big Debate |
| 12:30 | |
| 1:30 | Chair Closing Remarks and End of Conference | Thank you! |
Day 1 - Tuesday, June 13, 2023
8:30

Registration and Networking

9:00

Dani Haston
Head of Global Asset Management
Chainalysis, Inc. (USA)


Dan Wyatt
Partner
Reynolds, Porter Chamberlain LLP (UK)


9:15

CRYPTO AND DIGITAL ASSET PRIMER

Michael Adkins
Partner
Collas Crill (Guernsey)


Marc Jones
Partner
Stewarts Law LLP (UK)


Jessica Lee
Partner
Brown Rudnick LLP (UK)


Leonardo Real
Chief Compliance Officer
Tether.to (Canada)


For many fraud and asset recovery practitioners, the areas of digital assets and smart contracts are not well understood and create a variety of issues and challenges.

Join us in this two-part session as we:

Define and unpack the complexities of detecting fraud and tracing assets across the chain, such as:

Crypto Assets & The Blockchain
The Metaverse
Decentralized Autonomous Organizations (DAOs)
Non-Fungible Tokens (NFTs)
Smart Contracts
Decentralized Finance Bridges (DeFis)

Examine the latest developments and best practices for tracing and recovering these assets, including:

Is Crypto fraud trending towards becoming a "paradise" for fraud and asset recovery practitioners?
Are crypto assets treated as traditional assets for the purpose of asset recovery?
Do mixers/tumblers stop asset recovery in its tracks?

10:30

Matthew Lavy
Barrister
4 Pump Court (UK)


Sheila Ng
Partner
Rajah & Tann Singapore LLP (Singapore)


Mohamed Sacranie
Associate
Allen & Overy LLP (UK)


Benjamin Bathgate
Partner, Co-Chair Fraud Law Group
McMillan LLP (Canada)


As a result of the Tulip Trading matter, the UK Court of Appeal has in essence found that the developers of a given network may be a sufficiently well-defined group to be capable of being subject to fiduciary duties; in that "property" has been entrusted into the care of the developers — the developers therefore may have fiduciaries.

The Court of Appeal has ruled that those claims give rise to a "serious issue to be tried" and should therefore proceed to a full trial in London. Join us in this critical discussion as we look at:

The impacts of this decision on appeal
The importance of establishing jurisdiction
What can happen with the legal structure for the DeFi sector

11:30

Networking Break

12:00

Sophie Eyre
Parnter
Bird & Bird LLP (GBR)


Dani Haston
Head of Global Asset Management
Chainalysis, Inc. (USA)


Evelyn Baltodano-Sheehan
Partner
Kobre & Kim (USA)


William E. Turner
Partner
Winston & Strawn LLP (USA)


A lot has been said about the high-tech nature of blockchain and cryptocurrency; and has created numerous challenges for fraud and asset recovery practitioners – particularly around the standard suite of relief for fraud victims. The unknowns and new lessons in crypto fraud and asset tracing expand every day, and as you expand your practice and expertise, you cannot afford to fall behind in this emerging area of law.

In addition, there is a lot of uncertainty regarding the underlying substantive crypto claims relating to fraud, where there arguably remain more questions than answers. Join this session to take a deeper dive into crypto disputes and consider issues such as:

The types of substantive claims relating to crypto fraud, the potential pitfalls and strategic considerations
How fraudsters are using blockchain to conceal their activity and evade detection
How crypto fraudsters commonly seek to off-board fraudulently obtained crypto or fiat
The court's powers in multiple jurisdictions to recognize and ID crypto asset owners; and how they can trace and transfer ownership
Understanding some of the unique and advanced types of crypto fraud; including: scam ICO's, pump and dump schemes, exit scams, phishing and advanced ponzi shemes
The best strategies for serving freezing orders and injunctions against unknown individuals and organizations
The known unknowns in crypto disputes that will impact fraud claims: good faith, money vs commodity, DAOs, flash loan exploits and more

1:00

Networking Lunch

2:15

Josh Kemp
Partner
ADG Legal (United Arab Emirates)


Justina Stewart
Barrister
Outer Temple Chambers (UK)


Dan Wyatt
Partner
Reynolds, Porter Chamberlain LLP (UK)


Wern-Jhien Yam
Partner
Setia Law LLC (Singapore)


Crypto Exchanges and their employees are usually in a position that may enable them to spot and block or report suspected fraud. But what about civil liability for failing to spot potentially fraudulent behavior? For Exchanges there is the particular problem of the civil liability imposed on them for failing to spot fraud negligently (as opposed to deliberately).

Does an Exchange owe a duty of care not to execute the customer's order if it knows the order to be dishonestly given, or shuts its eyes to obvious dishonesty, or acts recklessly in failing to make inquiries? Join us in this session as we discuss some of the scenarios in which an Exchange can be liable for fraud; and the barriers to recovery.

3:15

Networking Break

3:45

Sam Goodman
Barrister
Twenty Essex (UK)


Saima Hanif KC
Barrister
Three Veralum Buildings (UK)


Rachael Muldoon
Barrister
Maitland Chambers (UK)


Bushra Ahmed
Partner
KBH (United Arab Emirates)


Crypto and fintech startups are originating in many markets that do not have well-established banking systems. This has led to increasing uncertainty in the ways that foreign investors approach opportunities in these new markets. The lack or established regulation and potential for widespread fraud provides crypto fraudsters with numerous opportunities to execute their tactics and explore multiple ways to commit digital asset fraud.

Be sure to join us in this session as our panelists explore strategies for detecting and preventing fraud in these new markets; along with ways to track and recover fraudulently obtained digital assets in jurisdictions without established case law and regulatory agencies.

4:45

Ashley Fairbrother
Partner
Edmonds, Marshall, McMahon (UK)


Carmel King
Director
Grant Thornton UK LLP (UK)


Mark Taylor
Head of Financial Crime
CEX.io (UK)


5:30

Networking Drinks Reception
Day 2 - Wednesday, June 14, 2023
8:15

Networking Breakfast

8:55

Dani Haston
Head of Global Asset Management
Chainalysis, Inc. (USA)


Dan Wyatt
Partner
Reynolds, Porter Chamberlain LLP (UK)


9:00

Grant Carroll
Partner
Ogier (BVI)


Tara Archer-Glasgow
Partner
Higgs & Johnson (Bahamas)


Adam Fee
Partner
Milbank LLP (USA)


The FTX and Three Arrows scandals have made it clear that corporate mismanagement in crypto businesses are looming as existential threats in the Fraud and Asset recovery landscape. Join us for this session to learn about what really happened at FTX and Three Arrows, labeled as unprecedented situations resulting from a "complete failure of corporate controls and a complete absence of trustworthy financial information".

We will discuss many aspects of the scandal and their broader applicability to pending and upcoming cases, including:

Was it a fraud or just a collection of inexperienced and irresponsible twenty-somethings very out of their depth?
How was this able to happen?
What can this community do to prevent such failures in the future?
What are the challenges in recovering assets?
What are the prospects of FTX's creditors receiving compensation?

10:00

Anoosh Arevshatian
Chief Risk Officer
Zodia Custody (UK)


Charlotte Meyer
UK Government Affairs and Policy
Binance (UK)


Melisa Ortes Gonzalez
Regulatory Counsel
Paxos (USA)


Join us in this informative session as our panel of crypto experts offer detailed responses to many of your most burning questions, such as:

What does the future of crypto look like?
What lessons have crypto natives taken from the last 12 months?
How are they helping rebuild trust in the ecosystem?
What challenges do they think the professional services sector should be focused on?
What are their thoughts on international recognition of court orders in a decentralized and borderless ecosystem?

11:00

Extended Networking Break

11:30

The Big Debate

Howard Fischer
Partner
Moses & Singer LLP (USA)


Syed Rahman
Partner
Rahman Ravelli Solicitors (UK)


Steven Rees Davies
Partner
Carey Olsen (Bermuda)


Nicosia Lawson
Senior Associate
Baker & Partners Limited (Cayman Islands)


The Treasury intends to bring regulation of crypto assets within the regulatory framework that was created by the Financial Services and Markets Act 2000. The Treasury believes that this will lead to greater confidence in crypto and increased credibility and regulatory clarity; along with strengthening the rules around financial intermediaries and custodians.

On the other side of the coin however, some crypto fraud practitioners believe that any measures introduced as a "rapid reaction" to crypto-related scandals may do more harm than good.

Join this animated, informative debate as our experts discuss the pros and cons of proactive and reactionary implementation of the proposal.

12:30

Charlotte Bhania
Partner
PCB Byrne LLP (UK)


Sarah Murray
Partner
Stevens & Bolton LLP (UK)


Abraham Vergis
Managing Director
Providence Law Asia (Singapore)


NFTs are the next big thing in the world of digital assets, but they are not globally accepted as a distinct form of legal property. Several jurisdictions have recently held that NFTs are protectable digital assets and a form of legal property, while others are still grappling with the issue of NFT property rights. Join us in this session as our experts share several different perspectives and recent case law decisions in this growing area by discussing:

"Person Unknown" injunctions and asset freezing orders
Legitimate claims to exclusivity
Assessing and verifying ownership and methods for accurately tracing NFT transactions
Exclusive possession or control
Accompanying rights that owners can assert in court and recognition as collateral
Exclusion of ownership claims
Possessory interests and intellectual property protections for the underlying asset

1:30

Chair Closing Remarks and End of Conference | Thank you!