Request Full Agenda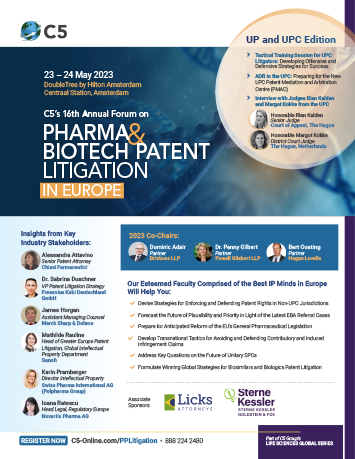 Flip through our 2023 conference brochure and discover what's new this year, including key sessions such as:
Interview with Judges Rian Kalden and Margot Kokke from the UPC
Tactical Training Session for UPC Litigators: Developing Offensive and Defensive Strategies for Success
ADR in the UPC: Preparing for the New UPC Patent Mediation and Arbitration Centre (PMAC)
Devise Strategies for Enforcing and Defending Patent Rights in Non-UPC Jurisdictions
Forecast the Future of Plausibility and Priority in Light of the Latest EBA Referral Cases
Prepare for Anticipated Reform of the EU's General Pharmaceutical Legislation
2023 Agenda is Available!
---
How We Will Use Your Data
We will process your personal data in order to provide you with the information that you have requested, and to share information about our events and products, deemed relevant to you, in accordance with our Privacy Policy. If you have any questions about how we will use your personal data, or our privacy policy, please contact [email protected].
C5 Communications has not authorized the use or sale of its list by any outside organization. Anyone claiming to have our list is not legitimate.
If you decide that you no longer wish to receive information about our events and products, you can contact us any time at [email protected]. Each of our marketing communications (whether by email, phone, facsimile, post or SMS) will also include an appropriate and easy way for you to unsubscribe.
C5 Communications, International House 142 Cromwell Road, London, SW7 4EF United Kingdom T: +44 (0) 20 4532 2313 E: [email protected]
---