Virtual Conference On-Demand
FDI Reviews and CFIUS
Catch-up on critical information – on your own time.
The 2nd European Forum on FDI Reviews and CFIUS took place May 19-20, 2021. Our outstanding faculty share insights on the most compelling topics on how to secure necessary approvals amid significant regulatory change. See brochure from the event below then purchase the recording to watch at your convenience.
2021 Topics included:
Navigating the Increasing Lens on National Security
Find out What to Anticipate and How to Prepare for EU and Member State Screening
Senior Executives Share Lessons Learned from the US CFIUS Reviews
Mitigation Best Practices: How to Structure Successful Mitigation Agreements
What to Do If Your Deal Includes a US Subsidiary/ Entity
Which Industries are Most Susceptible to Increased Regulatory Scrutiny?
---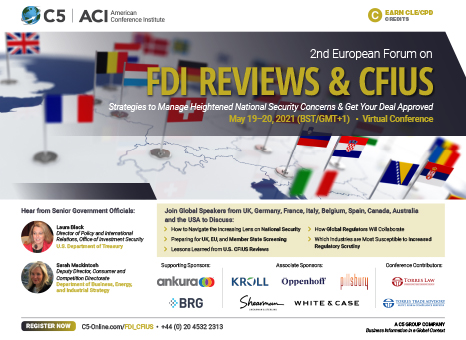 Conference Program
Take a look at the Agenda and Speakers
VIEW BROCHURE