C5's Acclaimed European Forum on Global Economic Sanctions will reconvene in Berlin June 2023!
Industry across Europe is confronting an increasingly unpredictable economic sanctions landscape-amid rapid developments, shifting geopolitics, new compliance challenges and enforcement risks.
With so much at stake, ensure that you are fully updated on new, anticipated sanctions, compliance requirements and best practices. Join your peers as we discuss the most pressing, high stakes issues coming across your desk, including:
Russia and Ukraine
Belarus
China
And much more!
Don't miss your best opportunity to hear government updates and compare notes with senior compliance, risk management and legal officers from multinational corporations and financial institutions.
Early rates will expire soon!
Must Attend Event For
Vice Presidents/Heads/Officers/Director/ Managers of:
Export Controls
Export Compliance
Procurement/Purchasing
Marketing and Sales
International Contract Managers
Export Licensing
Classification
Internal Audit
Engineering
In House Counsel
International Trade Counsel
Import/Export Compliance
Trade and Regulatory Counsel
Export Control and International Trade Lawyers and Consultants
There are many events and conferences available for sanctions, export control and FCC, but C5 always manages to bring the most relevant topics, speakers and best practice sharing, that make it worthwhile for all participants. If you can only spend time in one of these conference, C5 is the one to go to both for content and marketing.
This conference is an event not to be missed by any professional of this sector. It offers an update of the industry by skillful international speakers and a unique opportunity for networking.
The conference was very useful and insightful indeed and I especially appreciated the opportunity to get updates on sanctions and export control questions form the regulators of OFAC and OFSI.
…this conference offers better depth, breadth and networking opportunities than others I have attended due to the two-day format…
Great experience. An opportunity to meet people facing the same issues. Very interesting.
TOP INDUSTRIES IN ATTENDANCE
TOP COUNTRIES IN ATTENDANCE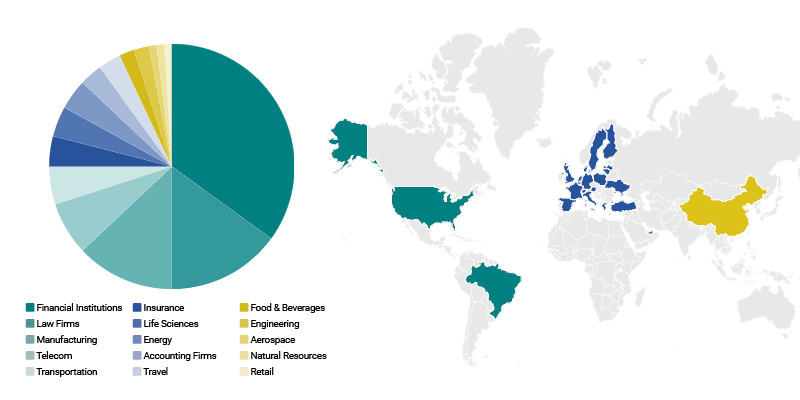 Announcing the Women in Sanctions Network (WSN), a new membership platform for women looking to exchange knowledge, support each other's growth and to help expand your network. By joining this community, you will be able to meet other women working in sanctions, share your knowledge, and exchange best practices for your daily work and career development