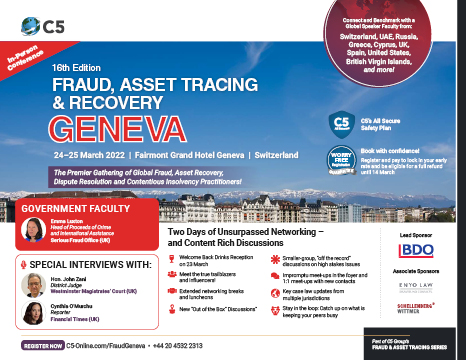 Download 2022 Brochure
Flip through our 2022 conference brochure and discover what's new this year.
VIEW FULL PROGRAM
Official Fraud, Asset Tracing & Recovery Geneva
Welcome Back Drinks Reception
Wednesday, 23 March, 2022  |  17:30–19:00
Sponsored by: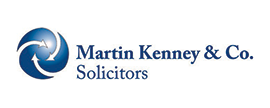 Day 1 - Thursday, March 24, 2022
| | |
| --- | --- |
| 8:00 | Registration and Networking |
| 9:00 | |
| 9:15 | "War Stories" and More |
| 10:15 | |
| 11:15 | Extended Networking Break |
| 11:45 | |
| 12:15 | The Standalone Freezing Injunction as a Cross-Border Asset Tracing Tool |
| 1:00 | Networking Luncheon |
| 2:15 | |
| 3:15 | |
| 4:15 | Networking Break |
| 4:30 | The "Out of the Box" Vehicles for Fraud |
| 5:30 | |
Day 2 - Friday, March 25, 2022
| | |
| --- | --- |
| 8:50 | |
| 9:00 | |
| 9:30 | Special Interview |
| 10:30 | |
| 11:30 | Extended Networking Break |
| 12:00 | |
| 1:00 | Special Interview |
| 1:30 | Making or Breaking an Asset Recovery Case |
| 2:30 | |
| 3:45 | End of Conference | Thank you! |
Day 1 - Thursday, March 24, 2022
8:00

Registration and Networking

9:00

Jane Colston
Partner
Brown Rudnick LLP (UK)

Saverio Lembo
Partner
Bär & Karrer (Switzerland)

9:15

"War Stories" and More

Costas Stamatiou
Cyprus
Elias Neocleous & Co LLC (Cyprus)

Benjamin Borsodi
Partner
Schellenberg Wittmer Ltd (Switzerland)

David Mizrachi
Senior Partner
MDU Legal (Panama)

Karla Lini Maeji
Partner
Tozzini Freire Advogados

Howard Sharp QC
Co-Founder, Advocate
Ardent Chambers (Jersey)

Some of the trends and developments in relation to fraud and asset tracing over the past 18-24 months have been unanticipated and challenging, and one of the most surprising developments is that there has been a sizeable change in both the value and volume of fraud cases heard in many global courts.

Join us in this session as we discuss some of the important updates and critical issues that fraud and asset recovery practitioners are facing, and take stock of the lesser-known takeaways affecting the path forward.

The distinguished faculty cover a myriad of key topic, including the latest on:

Civil and criminal liability
Evidence gathering and corporate intelligence
Worldwide freezing injunctions
Third party disclosure
Damages principles and enforcement

10:15

Patrick Robert-Nicoud
Judge
Federal Criminal Court (Switzerland)

The Hon. Mr. Justice Robin Knowles
Judge
Royal Courts of Justice (UK)

Jane Colston
Partner
Brown Rudnick LLP (UK)

11:15

Extended Networking Break

11:45

Emma Luxton
Head of Proceeds of Crime and International Assistance
Serious Fraud Office (UK)

Jane Guthrie
Senior Associate
Edmonds, Marshall, McMahon (UK)

12:15

The Standalone Freezing Injunction as a Cross-Border Asset Tracing Tool

Jonathan Addo
Partner
Harneys (BVI)

Andrew McLeod
Barrister
One Essex Court (UK)

Olga Bischof
Partner
Brown Rudnick LLP (UK)

Boris Telyatnikov
Partner
Enyo Law LLP (UK)

Join us in this session as we discuss the significance of the Privy Council decision in Convoy Collateral v. Broad Idea, and examine:

The purpose of a freezing injunction in the modern context, affirming it is to prevent the right of enforcement from being rendered ineffective by the dissipation of assets against which the judgment could otherwise be enforced
Important guidance on the availability of freezing injunctions against third parties who hold assets potentially available for enforcement
How the decision safeguards the standalone freezing injunction as an important cross-border asset tracing tool
Some areas of uncertainty following the decision

1:00

Networking Luncheon

2:15

Stefan Kühn
Head of Risk Advisory Services, Partner
BDO (Switzerland)

Mona Vaswani
Partner
Milbank LLP (UK)

Jane Colston
Partner
Brown Rudnick LLP (UK)

The area of crypto is a fascinating one as it is very new, and throws up the same kinds of issues and challenges litigators face every day. When it comes to crypto frauds, the blockchain may actually be of great help to in the context of asset-tracing and enforcement – as most transactions will be publicly viewable. This allows investigators and litigators to follow transfers of crypto from wallet to wallet; and ultimately into central exchanges such as Binance and Kraken, etc.

It is then that litigators can break out the familiar toolkit of disclosure and freezing orders to secure the misappropriated funds and uncover who may be behind the wrongdoing. The use of technology is another key part to this, as there are companies out there that can help automate the necessary review and searches of the blockchain. The technology can aggregate transactions more quickly and enable us to identify patterns; and pinpoint the source and destination of misappropriated assets.

3:15

Saverio Lembo
Partner
Bär & Karrer (Switzerland)

Daniel J. Zappelli
Partner
Vafadar Sivilotti Zappelli (Switzerland)
Former Attorney General of the Republic and District of Geneva

Ilias Anagnostopoulos
Partner
Anagnostopoulos (Greece)

Polly Sprenger
Partner
Addleshaw Goddard LLP (UK)

Due to the various obstacles that practitioners can face when conducting global investigations, it is imperative to have increasing cooperation between attorneys and enforcement authorities in the affected jurisdictions. Internal and external investigations trigger multiple legal issues when different jurisdictions are involved, and can seriously hinder efforts and arrangements that adequately compensate the actual victims in the cases.

In this session, our panelists will discuss the latest trends, developments and strategies that can be implemented to facilitate cooperation and eliminate the obstacles to achieving coordinated resolutions.

4:15

Networking Break

4:30

The "Out of the Box" Vehicles for Fraud

Sandrine Giroud
Partner
LALIVE (Switzerland)

Mathilde Heaton
General Counsel, UK; Europe, Middle East & Asia
Phillips Auctioneers (UK)

Héctor Sbert
Partner
ECIJA, Barcelona (Spain)

Christopher Noel
Attorney
Sequor Law (USA)

Join us for this unique discussion about art, museum pieces and other vintage collectibles that are used as vehicles for fraud. Hear real-world examples of fraudsters attempting to counterfeit and forge prints of rare art; and, fraudulently constructed pieces of highly sought-after collectibles, museum pieces and other forms of cultural property.

5:30
Day 2 - Friday, March 25, 2022
8:50

Mona Vaswani
Partner
Milbank LLP (UK)

Keith Oliver
Head of International
Peters & Peters (UK)

9:00

Mark Shaw
Head of Business Restructuring
BDO (UK)

Yves Klein
Partner
Monfrini Bitton Klein (Switzerland)

Richard Gillis
Barrister
One Essex Court (UK)

In this session, leading practitioners will provide us with updates on cross-border insolvency and restructuring laws in the U.K., Hong Kong, Switzerland and South America, including discussions on:

How to utilize insolvency and restructuring as mechanisms for exposing fraud; as well as detecting and recovering assets
Navigating jurisdictional impacts and discrepancies in insolvency law
Best practices for handling complex and sophisticated creditor rights matters
How the pandemic has affected insolvencies in their respective jurisdictions, from amnesties to business as usual; and what effect any legislative interventions will have

9:30

Special Interview

Hon. John Zani
District Judge
Westminster Magistrates' Court (UK)

10:30

Adam Fee
Partner
Milbank LLP (USA)

Andrew Stafford QC
Partner
Kobre & Kim LLP (UK)

In recent years, cyber fraud and ransomware attacks have dramatically increased in frequency and sophistication. This session will examine what happens after you get the call that the attack is underway, including:

Understanding the sorts of cyber fraud and ransomware threats facing global companies today
Addressing extortion and ransom threats from attackers in control of your data, including related cross-border legal issues
Tracing and recovering assets and data taken by the attackers
Engaging with law enforcement, privacy regulators, and other government actors across jurisdictions

11:30

Extended Networking Break

12:00

Ed Crosse
Partner
Simmons & Simons LLP (UK)

Audrey Byrne
Partner
McCann FitzGerald LLP (Ireland)

Glenn P. Hendrix
Chairman
Arnall Golden Gregory LLP (USA)

Clara Poglia
Partner
Schellenberg Wittmer (Switzerland)

This session will explore the evidential challenges that parties face in complex civil fraud claims. Our speakers will provide an international perspective on documentary evidence, examining the different approaches taken to disclosure & discovery in Civil and Common Law jurisdictions.

Controversially, our panel of experts will debate whether it is actually possible to pursue a civil fraud claim in a jurisdiction that doesn't require searched-based disclosure. They will also discuss situations where there are wide-ranging disclosure obligations; and review ways to get key documents at a proportionate cost.

1:00

Special Interview

Cynthia O'Murchu
Reporter
Financial Times (UK)

Mona Vaswani
Partner
Milbank LLP (UK)

This session provides a view into an investigative reporter's approach to digging into (alleged) financial wrongdoing. Through use of open source investigation tools and public records, we can demonstrate that red flags are often hidden in plain sight. Case studies include investigations such as Greensill Capital or NMC Health.

The session will also discuss some tactics used by those investigated to obfuscate their dealings, including through attacks on journalists. We will also examine how loopholes in legislation hamper transparency.

1:30

Making or Breaking an Asset Recovery Case

Barry Robinson
Director
BDO (Ireland)

Markus Stadler
Counsel
Martin Kenney & Co. Solicitors (British Virgin Islands)

Gerard Clarke
Senior Counsel
Baker & Partners (UK)

Ed Davis
Founding Shareholder
Sequor Law (USA)

In an asset recovery case, it's very important to identify the right tools to use; consider the restraints that may be placed on their use; and, manage the associated risks. On any fraud investigation, forensic accountants will seek access to a large pool of relevant proprietary information; while the domain of corporate intelligence professionals, is to gather all the pertinent information which lies outside the premises of the company and its closest advisers.

More importantly, the ability of corporate intelligence specialists to quickly identify and retrieve reliable evidence scattered outside the company is both an important and necessary skill, and often serves to inject crucial momentum into the early stages of an investigation. Knowing that, it is critical to identify and implement the most effective tools and skills that are used to gather information in asset recovery cases, such as:

The ability to identify and retrieve information from a wide array of sources which may be spread across numerous jurisdictions — and in different languages
Being adept at analyzing, interpreting and contextualizing such information before pinpointing its relevance to the matters at hand
Knowing how to develop recruiting sources, sting operations, open source desktop inquiries, and bank account information procurement
Covert human intelligence gathering; and covert intelligence gathering by electronic means
Understanding how to utilize political advocacy in rule of law challenged jurisdictions

2:30
3:45

End of Conference | Thank you!