Hardly a day goes by without some international trade issue making the news. As an international trade professional, keeping up with the latest requirements rests in your hands and anything less than the strictest compliance could lead to your company being next to make the headlines.
THE UPCOMING YEAR IN CUSTOMS: VAT, AEO, FTZ AND HS CODES
The new Dubai AEO programme is not only being introduced to companies, but also expanded to the entire UAE. Find out how your company can benefit from this new certificate.
Value Added Tax is being introduced into the Gulf Cooperation Council (GCC), leading to a myriad of questions, from how can companies prepare for the new duty, to what impact this will have on businesses operating within the free trade zones. Have your questions answers by customs officials from the GCC to ensure your company is not left with unexpected fees.
Customs requirements change frequently within the Middle East, and what information was needed for a declaration on day might be different the next. Discover how to prevent your goods being caught up in Customs.
PROTECT YOUR GOODS FROM GETTING INTO THE WRONG HANDS
When sending controlled data, it's essential to ensure materials, whether tangible or intangible, don't accidently get tranferred to the wrong party. Learn how companies are protecting dual-use and military goods.
UNCOVERING SANCTIONS RISKS AND ESCALATING RED FLAGS
Economic sanctions remain a priority for governments, and non-compliance has led to fines that can topple even the strongest of companies. However, it is becoming increasingly difficult to identify sanctioned parties within a transaction. Gain insights on OFAC's expectation on companies and what you can do to upgrade your own procedures.
HIGHLIGHTS FOR 2017!
Kick-off the conference and network with the international trade community with an excursion on a the desert safari
Interactive exercises: Go deeper into the topics that challenge you the most by working through two self-selected case studies with a small group
Be among the first to find out how the new UAE AEO process works in practice and how your company can benefit from certification from a pilot company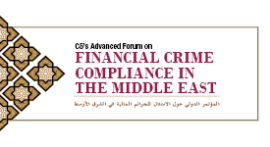 Financial crime is on the forefront of governments' agendas worldwide and with a recent fine of $8.9 billion handed down to a European bank and an even larger fine looming on the horizon. It's essential that financial institutions bolster their sanctions, anti-money laundering and fraud compliance or risk reputational and financial ruin. More