For more information on the agenda, speakers and networking opportunities, download the full event guide.
Meeting the Manufacturing Infrastructure Needs of a Growing Plant-Based Sector
How Planted Became a Leading Manufacturing Company
PANEL How to Find the Right Partners to Effectively Scale Up Your Production
Networking Break & Prescheduled Meetings
In-House vs Outsourcing – Key Considerations
Assessing Sustainability From Farm to Fork
Sustainable Ingredient Sourcing: Considerations and Lessons Learnt
Building a Production Facility Around the Micro-extruder – From Pilot to Industrial Scale
Shear Cell Technology – The Future of Plant-Based Meat Production?
Networking Break & Prescheduled Meetings
Building a Sustainable Supply Chain During Hypergrowth
A Plant-Based Ice Cream Adventure
PANEL How to Build Manufacturing Capacity in the Plant-Based Industry?
Close of Conference Day 1
---
Registration & Networking
The Journey of a Category Pioneer
How to Plan a Plant-Based Meat Production Facility – A Start to End Guide
Developing a Facility for the Meat-O-Matic 9000
Networking Break & Prescheduled Meetings
Commercializing Shear Cell Technology
Scaling Production of Plant-Based Meat Through High Moisture Extrusion
PANEL Future-Proofing Your Manufacturing
Effectively Protecting Intellectual Property when Outsourcing
PANEL Financing Your Manufacturing & Operations
PANEL Securing Talent & Labour in the Plant-Based Space
Close of Conference Day 2
---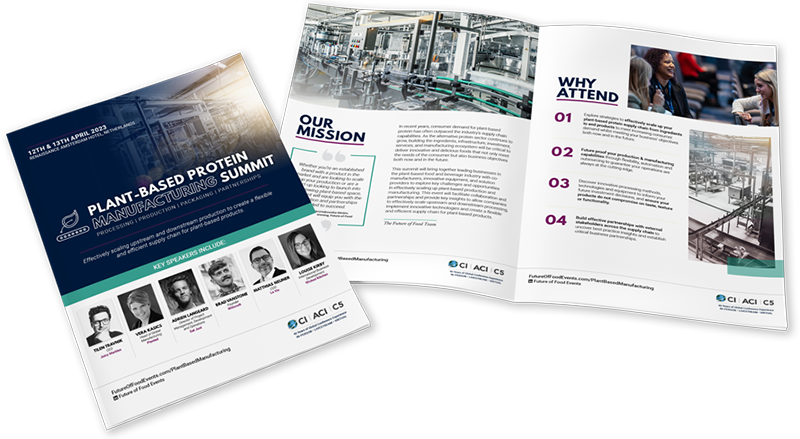 Gain access to:
Full session details on the agenda
Speaker list and bios
Networking opportunities and meetings app
Exhibitor and sponsorship opportunities
Details of who you will meet
How to get in touch with us
Download 2023 Event Guide
Receive exclusive discounts, offers and agenda updates directly to your inbox.