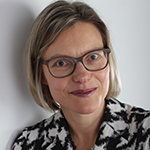 Dr. Corinna Sundermann
Senior Vice President, Intellectual Property Management
Q&A with Our Esteemed Co-chair:

As co-chair for 2019 Life Sciences IP Summit, why do you think practitioners should attend this event?
CS: The conference covers the main developments for patent protection and patent litigation in the pharmaceutical industry with a slight focus on biologics. It gives a valuable overview over "what is currently going on" which saves a lot of time in our busy environment. It is a good mixture also of talks and panel discussions – talks usually tell one story, panel discussions shed light on various aspects of one topic.
As a regular speaker on IP conferences, I have to emphasize that C5 conferences are very well organized with early/multiple alignments among the speakers, which is very positive for the quality of the conference.

What do you think has been the Most Notable Pharmaceutical and Biotech Patent Trends in the Past Year?
CS: The generic and the innovator industry have one clear common target: Legal certainty which avoids unnecessary litigation. We received slightly more clarity on enforcement of second medical use patents – but certainly less than needed as a clear guidance which will avoid costly litigation in the future. This was a big topic of last year and will continue to be one.
The SPC Manufacturing Waiver which recently passed the European Parliament was a great achievement for Europe as a location for the Generic Industry.

What Has Been Driving These Trends?
CS: Pregabalin/Fulvestrant and the initiative SPC Manufacturing Waiver – see the conference agenda

What's the most challenging concerns currently in the IP Community?
CS: Giving appropriate advice in an environment of decreasing legal certainty.

What are you most looking forward to learning at this year's Life Sciences Patent event?
CS: Protection of antibodies – this is not really my topic, but I know that there were some questionmarks.

What do you think are the crucial decision questions for an IP practitioner when it comes to patent protection?
CS: Patentability – getting less clear in the very often conflictive decision practice of the EPO and the different European Courts, even within the same country.