Truly seismic changes are facing the Insurance Industry right now. Consolidation and technology have been the buzzwords for professional's and this conference will explore the market conditions and drivers that are the catalysts. Senior thought leaders and professionals will explore the key trends that every industry professional should expect from the future and how to prepare for keeping in front of change.
C5's inaugural Insurance Industry Tomorrow Conference will bring together a senior level audience of cross industry key decision makers, consisting of Heads of M&A, Corporate Development, Strategy, Insurance Investment Bankers, Legal Counsel, Investors and Industry disruptors and leaders.
This unique event comprises two separate focus days on two key topical areas:
Global M&A in Insurance
Day One 22nd February 2017
Navigating Insurtech
Day Two 23rd February 2017
Current & Future Drivers of
Insurance M&A
Debate: Impact of Brexit
Cross Border Regulatory
Considerations
Accounting and IASB Implications
Update
M&A as a toll for development in
Technology
Economic and political factors
Impacting the industry
Cross Border Demand
Overcoming challenges to embracing Insurtech
Customer Behaviour Trends
Implementing Digital Change
Leveraging Data Analytics
Fuelling Intrepreneurship
Navigating Regulation
AI and Machine Learning
Blockchain
IOT
How Insurtechs are filling in the gaps
Investing in Insurtech
We look forward to welcoming you at the conference.
Naomi Ononuju
Legal Conference Producer
C5 Communications
T: +44 20 7878 6874
E: n.ononuju@C5-Online.com
You may also be interested in our 26th D&O Liability Insurance Forum (With FI Insurance Day) Conference: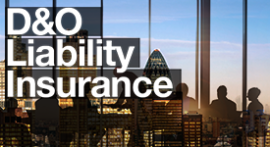 Directors and Officers are facing increasingly disgruntled shareholders as part of a "blame culture", and there are also increased threats on the compliance and liability side including cyber related exposures, bribery and anti-corruption, third party improper payments, FCPA violations, money laundering, etc. The list of risks never ends… More