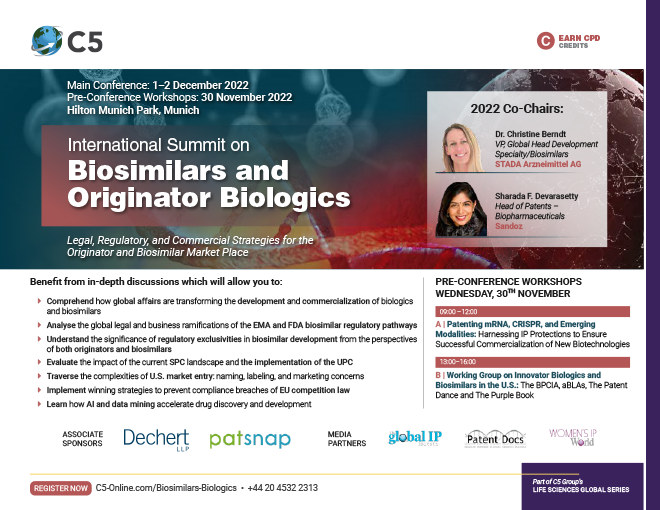 Download 2022 Brochure
Flip through our 2022 conference brochure and discover what's new this year.
VIEW FULL PROGRAM
Pre-Conference Workshops
Nov 30, 2022
9:00am – 12:00pm
Day 1 - Thursday, December 1, 2022
| | |
| --- | --- |
| 7:00 | Registration and Breakfast |
| 7:45 | |
| 8:00 | |
| 9:00 | THE INTERNATIONAREGULATORY THINK TANK |
| 10:00 | Morning Networking Break |
| 10:15 | |
| 11:15 | |
| 12:15 | |
| 1:15 | Networking Luncheon |
| 2:30 | |
| 3:30 | |
| 4:30 | |
| 5:30 | |
Day 2 - Friday, December 2, 2022
| | |
| --- | --- |
| 8:45 | |
| 9:00 | THE IMPACT OF BIOSIMILAR COMPETITION IN EUROPE |
| 10:00 | |
| 11:00 | Morning Networking Break |
| 11:30 | COMMERCIAL STRATEGIES FOR THE ORIGINATOR AND BIOSIMILARS MARKETPLACE |
| 12:30 | Networking Luncheon |
| 2:00 | |
| 3:00 | |
| 4:00 | |
| 5:00 | Conference Concludes |
Day 1 - Thursday, December 1, 2022
7:00

Registration and Breakfast

7:45
8:00

The Unitary Patent and the Unitary Patent Court were designed to achieve a simpler, cost-effective means of protecting and enforcing patents in Europe. While it is certain that the UPC's decisions will have pan-European effect, it is less clear how the UPC could impact biosimilar medicines. This session will analyze the changes under the UPC and UP and provide attendees with a handbook for the future. Topics of discussion will include:

Considering the costs and benefits of the system for biologic patent applications
Weighing the decision to opt out
Monitoring competitor patents toward launching UPC revocation actions
Strategically using divisional applications during the transition period
Understanding the territorial scope of protection and the role protocols play in the biologics space
Predicting the impact to litigation and legal certainty
Detailing the non-exclusive jurisdiction for all national validations of European patents and biologics patents in particular

9:00

THE INTERNATIONAREGULATORY THINK TANK

Recent and ongoing European regulatory changes will affect every originator and biosimilar company that currently sells or sponsors products in the European Union and the UK. The regulatory landscape is transforming so rapidly that that companies must track and monitor these developments or risk the license-to-operate.

While timelines continue to waver, manufacturers, distributors, providers, and counsel must consider the implications of these regulations and take a proactive approach to dealing with regulatory change.

Topics of discussion will help you:

Understand legislative reforms that will impact biosimilar regulation within Europe
Learn how companies can adapt their processes and systems to these new systems in order to comply
Appreciate which innovative process and technology solutions can help you achieve readiness success

10:00

Morning Networking Break

10:15

There are fundamental differences in both the regulatory processes and the market dynamics of the U.S. and the EU that account for much of the discrepancy in the uptake of biosimilars.
As pharmaceutical drug costs attract increasing media attention and political scrutiny, a growing number of biosimilar drugs are set to enter the U.S. and European markets in the coming years.

This session will dissect the BPCIA, compare it with the European approach, and consider near and medium scenarios for biosimilars in the United States.

Topics of discussion will include:

Exploring the basics of the BPCIA
Comparing the European and American approaches
Considering near and medium scenarios for biosimilars in the United States

11:15

The introduction of the SPC manufacturing waiver which went into effect on 2 July 2022 addressed a significant disadvantage that European producers of biosimilars had compared to non- European rivals. Under the new system, the UPC will have jurisdiction over SPCs unless the opt-out provision is invoked or if they originate from an already opted out European patent. This session will detail the rights conferred by the SPC.

Topics of discussion will include:

Whether an SPC under the current national SPC laws can be based on a unitary patent
Outlining the implications of the rules of origin on the biopharmaceutical industry
Detailing the scope, relevant marketing authorization, and which patents can be used to obtain an SPC
Considering areas where clarification from CJEU may still be required
Preparing for the EU Commission's prospect of introducing a unitary SPC

12:15

As originators become more active in the business of biosimilars, and biosimilar manufacturers have entered the arena of creating their own new biologics, the importance of second medical uses for individual companies as well as the global industry is of growing importance.

Topics of discussion will include:

Understanding second medical use patents & carve out strategies

Clarifying the patentability of further medical use inventions

Whether eliminating an indication claimed by a second medical use patent from the product label does or does not alone save the generic from a finding of infringement and a consequent injunction
Assessing the implications of second use patents for:

Regulatory
Market Access
Legal

Outlining the implications
What form can second medical use claims take?
What must be established for a second medical use patent to be infringed?
How do you enforce a second medical use patent?
Can you prevent off-label use?

1:15

Networking Luncheon

2:30

Plausibility in the context of the inventive step and sufficiency requirements can be a contentious issue. To discern whether an invention is purely speculative, the Boards of Appeal of the EPO developed the doctrine of plausibility in the context of sufficiency of disclosure as well as inventive step.

As we await the Board of Appeal to issue the written decision, this session will consider in what situations post-published evidence can be considered to support the effect of the invention.

Topics of discussion will include:

Understanding in what situations post-published evidence can be considered to support the effect of the invention
Overcoming the key challenges and hurdles currently being faced in obtaining formulation, combination and second medical use patents in Europe (as related to showing plausibility, sufficiency and inventive step)
Incorporating the latest EPO and national case law into your strategies for procuring, maintaining and enforcing these types of patents
Striking the balance between securing an early filing date and overcoming the plausibility hurdle

3:30

Considering the Boards of Appeal's decision in Amgen v. Sanofi, how great an influence is potential invalidity when it comes to a preliminary injunction application?
Assessing when may preliminary injunctions be denied, regardless of if a patent is valid or infringed upon
How important is the role of an infringement assessment in preliminary proceedings?
Analyzing Article 3(2) of the IP Enforcement Directive 2004/48


4:30

Understanding how BoA and the EUIPO helps with ADR

ADRs in the EUIPO Boards of Appeal
Assisted Negotiation and Expert Determination
Effective Dispute Resolution (EDR)
Co-mediation mechanisms
ADR Cooperation Initiatives

Detailing why parties should consider using EUIPO ADR mechanisms
Combining parallel disputes at national and international levels into one resolution

Avoiding complex litigation proceedings
Achieving quicker, more efficient outcomes in a cost-effective way

5:30
Day 2 - Friday, December 2, 2022
8:45
9:00

THE IMPACT OF BIOSIMILAR COMPETITION IN EUROPE

10:00

This session will consider the economic implications of biosimilar reverse payment litigation globally, the competitive effects, and economic damages.

Topics of discussion will include:

Understanding settlement strategies between innovator biologic companies and biosimilar applicants
Whether developing a patent thicket is an antitrust violation

UFCW Local 1500 Welfare Fund v. AbbVie Inc. (7th Cir. Dec. 28, 2020)

Reviewing what is deemed anti-competitive activities

Whether you need to prove that all the patents in the thicket around a drug are invalid
Highlighting the state legislation directly addressing reverse payment patent settlements

When biologic manufacturers should expect antitrust scrutiny

Reviewing the proper standards of antitrust review and the rising call for a legislative response

Analyzing the current legislative and regulatory framework
Mergers, acquisitions and exclusive licenses
Anticompetitive agreements
Abuse of dominance
Life cycle management and contracting
Pricing strategies

Avoiding costly litigation and associated penalties by effectively complying with the law

11:00

Morning Networking Break

11:30

COMMERCIAL STRATEGIES FOR THE ORIGINATOR AND BIOSIMILARS MARKETPLACE

Evaluating the clinical pipeline by company, indication and phase

Analyzing the market share for biosimilars in various regions
Target drugs with highest spending
Current market dynamics and considerations for biosimilar adoption
Comparing the European Union biosimilar experience

Considering the implications of insurers placing biosimilars on "primary tiers" and what that means for the future
Incentivizing providers to adopt biosimilars

12:30

Networking Luncheon

2:00

Our panelists of global thought leaders will contemplate where the EU fits in the global biosimilars
marketplace.

Assessing regulatory and legislative developments impacting the biopharmaceutical industries in each region
Understanding the economics and market influences

Considerations for market access, sustainable pricing and reimbursement policies
Market uptake of biosimilar products
Biosimilar v. biosimilar litigation in a crowded market

3:00

Identifying approved and marketed biologics coming off patent while looking ahead and considering clinical insights, pricing and dosages
Predicting what problems future competitors may run into with respect to their IP profiles
Forecasting which segments or regions will drive market growth
Reviewing key sustainability tactics adopted by leading market players
Evaluating the impact of off-patent drugs on competition and growth strategies
Developing techniques for an accurate assessment of the current value of your portfolio while

4:00

Understanding how AI and data mining can accelerate drug discovery and development
Analyzing the extent to which data might be mined from previous clinical trials toward finding new uses for known drugs
Taking stock of the role of artificial intelligence in this process
Preparing for the challenges that exist for patents

5:00

Conference Concludes
Workshop A – Patenting mRNA, CRISPR, and Emerging Biotechnological Inventions: Harnessing IP Protections to Ensure Successful Commercialization of New Technologies
What is it about?
Harnessing new capabilities such as AI, automation, and data analytics, as well as the manipulation of mRNA and CRISPR technologies are critical to how companies will commercialize innovation and ensure success of the business unit. Securing IP rights to these technologies and leveraging or licensing these rights appropriately is essential to successful commercialization, growth, and future development of these innovations.
This workshop will examine recent IP controversies with new technologies such as mRNA and CRSPR and provide an insightful exchange on addressing patent rights in this new era which has been dubbed the New Biotech Revolution.
Points of discussion will include:
Survey and analysis of current mRNA and CRSPR patent challenges
Looking at future uses of mRNA and CRISPR technologies, while being cognizant of current and potential IP challenges
Analyzing the future market opportunities and emerging biotechnological trends on a global level
Being mindful of freedom to operate parameters with these technologies as well as peripheral patent rights
How to appropriately leverage patent rights for new biotech inventions: when does a license make sense over a lawsuit?
Selecting a delivery method for new inventions
Deciding whether to in-license lipid nanoparticle (LPN) technologies v. patent protection on novel technologies
Reviewing the regulatory pathways for these technologies
Exploring the changing landscape relating to regulatory evaluation, drug development and commercial strategy
Understanding how the multi-stakeholder approach can be used to support efficient implementation
Workshop B – Working Group on Innovator Biologics and Biosimilars in the U.S.: The BPCIA, aBLAs, The Patent Dance and The Purple Book
What is it about?
This intimate working group series will cover the regulatory framework governing innovator biologics and biosimilars in the U. S. Our industry thought leaders will explain the differences between the BPCIA and related pathways relating to patent protection and litigation, recent BPCIA court cases, and IPR activities linked to biologics.
Points of discussion will include:
An introduction to biologic drugs, biosimilars, the Biologics
Price Competition and Innovation Act (BPCIA) abbreviated approval pathway, and statutory language
Discussing the FDA Draft Guidance documents on biosimilar product development
Making predictions for the future of biotech patents and biosimilar product development in the U. S.
Reviewing BPCIA cases at the Federal Circuit and District Court levels